In 1907, Susan La Fleshe Picotte, the first Native American woman doctor, wrote a letter to the Commissioner of Indian Affairs. Her letter described the health conditions and needs of her tribe, the Omahas. She began her letter with, "If you knew the conditions…"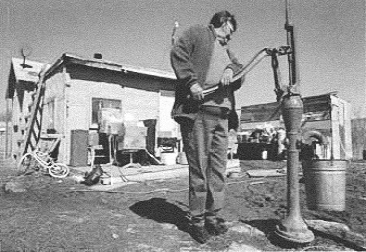 "in over 100 years, things have not changed."
One Nation Walking Together began in a garage in the mid-1990s when husband and wife Elaine and Bill Glynn retired and wanted to make a difference. Elaine decided to put her craft-making skills to use by sewing clothes for the needy. When she learned that the Pine Ridge and Rosebud Reservations in South Dakota were among the poorest areas in the country, she began sending her items to Native Americans. Soon, friends and neighbors began asking Elaine to include their donations in her shipments. The couple quickly became overwhelmed with the number of donations they received.
But operating a small non-profit with such a big mission can be incredibly challenging. Almost 12 years later, One Nation's current Executive Director, Urban Turzi, took over in early 2007. At the time, ONWT was struggling—no money, no board of directors and no staff. Turzi was able to take One Nation to new heights eventually moving into a larger facility so that today ONWT delivers approximately $1.2 million worth of donated items to 40,000 individuals annually. Additionally, Turzi, with the help of his dedicated staff, formed relationships to help develop an annual powwow, film festival, food sustainability program, participation in the local Give! Campaign and more.
As One Nation looks to the future, we hope to continue to expand to help even more Native people in new and innovative ways, but we cannot do this without your help!
9,147
hours volunteered valued at $1,000,000.00
$1.2 Million
value of merchandise donated to those in need.
40,000
people have been helped
95¢
of every dollar donated directly supports One Nation's programs.